Ticket Pick Up Information for Graduates
Pick up schedule
May 3 - 7, 2021
10 a.m. - 4 p.m.
Please come to campus to pick up your four Commencement ceremony guest tickets on the day associated with your college as listed below. To request an alternative pick up date, please email getinvolved@csufresno.edu.
Craig School of Business
College of Social Sciences
College of Health and Human Services
College of Science and Mathematics
Lyles College of Engineering
College of Arts and Humanities
Jordan College of Agricultural Sciences and Technology
Kremen School of Education and Human Development
Graduates must be registered for a College ceremony to be able to pick up tickets. Only YOU, the graduate, are able to pick up your tickets. You cannot send someone else to pick up your tickets. Please stay socially distanced and leave campus immediately after picking up your tickets.
What to bring:
Your Fresno State student ID ir driver's license
Mask or appropriate face covering
Location:
Lawn between Ag Science building and Satellite Student Union (corner of Maple and E. San Ramon Ave)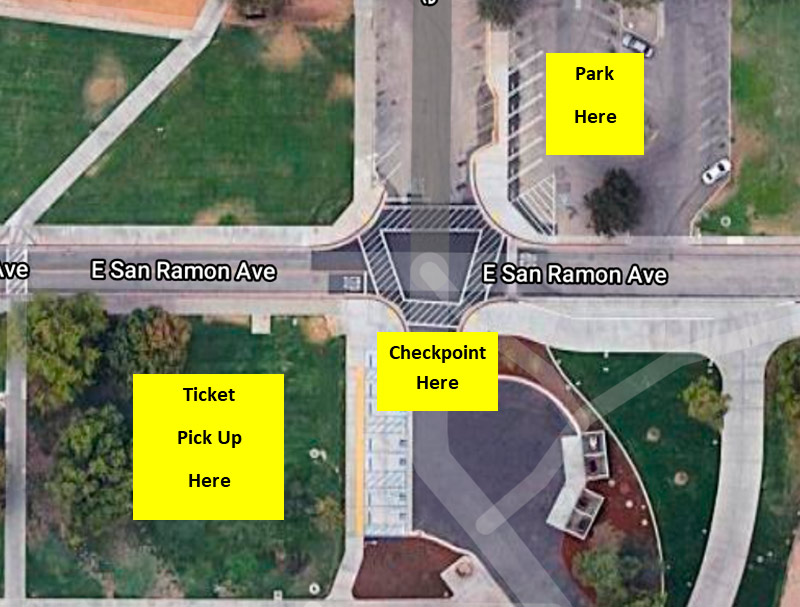 Mandatory Health Screening:
Before arriving on campus, please complete the daily screening questionnaire. This may be done on the Fresno State app on your mobile device or you can print the completed web-based form from home before coming to campus. Once you complete the health screening take a screenshot of the last page or bring your print out to show at the drive through checkpoint or if asked. Please make sure to bring a mask as they are required on-campus.
Campus Covid-19 Check Point:
When you arrive on campus you first will need to go through the campus Covid -19 checkpoint. There will be a checkpoint location at ticket pick up location. You will need to show your green check mark and have your temperature checked. You will receive a sticker once done and then you can move on to the ticket pick up area.
Parking:
Please park in parking lot P15. Parking will be relaxed. You will not need a parking pass.
Questions:
Please contact the Student Involvement Office 559.278.2741 or getinvolved@csufresno.edu